Hello.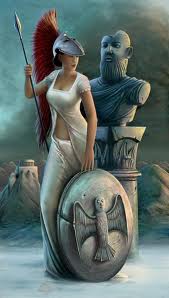 An okay photo.
I really am having trouble finding a good picture of Athena.


People always tell me I am so much like her when comparing me to a goddess.
I like to make my own Halloween costumes, so I need a picture of her, as a young girl.
All the picture I find are either of her as a older woman, or just not right.
Here are some better pictures I have found.
Also, I don't like her depicted as having wings. Any ideas?
Hello,
I'd like to invite everyone to come up with ideas for a Halloween costume!
The images you found are very beautiful, but they are not quite representative for the Greek goddess Athena. Also, there aren't any images of her as very young, because she was born from her father's head (Zeus) directly as an adult.
Athena (goddess Minerva in Roman mythology) was usually represented with her attributes, i. e. the owl, the olive, the aegis on which she later put the head of Medusa, the helmet and a spear (and, by the way, no wings).
This is how Homer describes her aegis (this term was used in the beginning for a kind of cloth collar which contained a shield and then was used to name just the shield): "a hundred tassels of pure gold hang fluttering from it, tight-woven each of them".
Here are some links to typical images of the goddess, so as to have an idea about her clothes and her helmet:
Pallas Giustiniani
.
The following image is a drawing made after one of the most famous statues of the Greek antiquity, made by Phidias, which was described as follows: "The statue of Athena is upright, with a tunic reaching to the feet, and on her breast the head of Medusa is worked in ivory. She holds a statue of Victory about four cubits high, and in the other hand a spear":
Athena Parthenos
and you can clearly see the aegis with the head of Medusa.
Another famous representation is the following:
Contemplative Athena
and you can see the clothes are quite plain in this image.
In this other image there is the aegis with the head of Medusa, as you can see it looks like a "necklace" made of snake-shaped links, with a "pendant" shaped like the Gorgon's head - I think this is something quite doable for a Halloween costume:
Athena Velletri
So I guess that if you are "crafty", you could make a helmet similar to the typical one that Athena wears, and an "aegis" (a necklace) with the snakes and Medusa's head, and you could accesorize your outfit with a staff/spear and a shield (maybe similar with the one shown in your first image, i.e. with an owl on it, because the owl was another one of her symbols). And try to blend in an olive branch, too.
Hope it helped, good luck with your costume and please come back and let us know how it went and maybe post some pictures!
(Hmmm, I guess I should just begin some pages about Halloween costumes inspired by the Greek gods and goddesses, who wants to contribute is more than welcome :-)