Greek Mythical Creatures
Here is a list of Greek mythical creatures (I have put here all the "things" which were not exactly monsters, together with some pictures).


As with many other characters from Greek mythology, we still refer today to many of these Greek mythological creatures.

The Centaurs - creatures who were half man and half horse.


The Battle of Lapiths and Centaurs, metope XXX from the south side of the Parthenon, 447-432 BC
Buy this Giclee Print at AllPosters.com

The
Cyclopes
- giant one-eyed Greek mythical creatures who lived without respecting the gods. The most famous one is
Polyphemus, Poseidon's son, who tried to eat Odysseus' men
, but ended blinded by the hero.
For pictures of Polyphemus and Odysseus, click here.
. The
Dryads
- nymphs of the trees.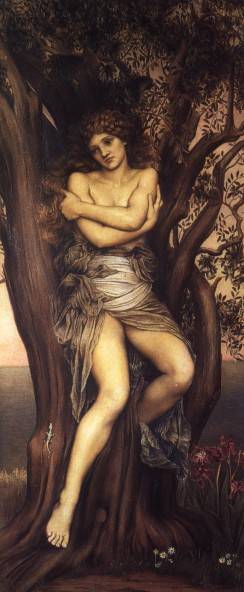 Dryad
by Evelyn De Morgan
Minotaur
- a creature with a bull's head on a man's body or else a creature "part man, part bull", as Ovid puts it.

Theseus Fighting the Minotaur, Detail from an Attic Black-Figure Amphora
Buy This Allposters.com

Pegasus
- the winged horse.
Pegasus
Barbari, Jacopo de
Buy this Giclee Print at AllPosters.com

The
Satyrs
- who were spirits of the nature, half-man and half-goat.
Venus, Satyr and Cupid, 1528
Correggio
Buy this Giclee Print at AllPosters.com

The
Sirens
- in the beginning they were depicted as birds with a woman's head (and, sometimes, breasts) and later they became the mermaids we know (half-woman, half-fish).
Satiated Siren
Mossa, Gustav Adolf
Buy this Art Print at AllPosters.com

The
Sphinx
- it is a creature which appears first in Egyptian mythology, as a lion with a man's head. In Greek mythology it has the body of a lion, a woman's head and wings.
Proto-Corinthian style vase with a sphinx (ceramic)
Buy this Giclee Print at AllPosters.com

The
Tritons
- creatures of the sea, half-man and half-fish.
Mythological Scene, Triton
Buy this Pre-Matted Print at AllPosters.com

I'll think of some more Greek mythical creatures to add on this list, but it's quite difficult to decide which one is a "creature" and which one is a
"monster"
and whether to take into account their looks or their behaviour ;-)
Not exactly what you were looking for? Keep on searching!
Custom Search