Apollo and Daphne
The story of Apollo and Daphne was a story of unrequited love. He was, as usual, unlucky in love, because the girl he liked didn't like him back. And she was unlucky because she ended up as a plant you might find right now in your kitchen. Ouch!
The older stories about Daphne, from Parthenius and Pausanias, make her the daughter of Amyklas. She didn't like to mix with people, she just liked to hunt in the mountains. Artemis liked her a lot, so she gave the girl the gift of shooting straight.
One day Leukippos, son of Oinomaus, saw her and fell in love with her. He knew she wasn't like al the other girls who wanted to get married, so he decided to use a different strategy in order to be with her. He let his hair grow, he put on woman's clothes and he joined the maidens who attended Daphne.
He was very skilled in hunting, so he quickly became very close to her. Apollo saw all these and, as he too was in love with the girl, he put into her mind the idea to bathe into a stream. All the girls were thrilled, except for Leukippos, who didn't want to undress. Jokingly, they tore his clothes, and when they discovered that he was a man, they killed him with their spears.
That's when Apollo decided to appear and to follow Daphne. She ran away, but after a while, growing very tired, she implored the gods (either Zeus or Gaia) to protect her. And instead of teleporting her to safety, the gods turned her into the laurel tree (in Nonnus' version, Gaia just swallows the girl). If that's what the gods called "help"...

Apollo and Daphne
in Ovid's Metamorphoses
Another version of the story of Apollo and Daphne is told by the Latin poet Ovid in his Metamorphoses. For him, Daphne was the daughter of the river-god Peneus.
One day, Apollo mocked Eros and his arrows: while Apollo's arrows would kill fierce beasts and enemies, Eros' arrows would just bring love. The little boy was no match to the mighty god! Enraged, Eros told the god that nobody can resist his arrows. He took two arrows from his quiver: one with a gold tip, which brought love, the other one with a lead tip, which rejected love. The first one was destined to Apollo, the second one to Daphne. Way to go, Eros!
That's why the girl decided to spend her life hunting in the woods. Her father often told her that he wanted grandchildren, but she wouldn't listen. In the end, she asked him to grant her the wish of remaining a virgin, just like the goddess Diana. Reluctantly, he agreed (it's nice to see a father who didn't force his daughter to do what he wanted, but took into account her wishes).
When Apollo saw Daphne's beauty, he fell in love with her. She ran away, as he started to chase her. He called her, telling her he was the son of Jupiter and the lord of Delphi, the god people called "the Healer", who knew the power of every herb. He begged her to stop, but she wouldn't listen. She grew more and more tired, as he approached and nearly caught her.
When she got near the river Peneus, she implored her father to get her rid of her beauty. All of a sudded she felt weak, thin bark covered her skin, her arms turned into branches and her hair into leaves, her feet into roots - she changed into the laurel tree. Yet Apollo still loved her and decide to make the laurel his tree. He broke a branch and put it on his head - and that's why later a crown of laurel was given as a prize.

Here is one of the most famous interpretations of this story: the sculpture Apollo and Daphne by Gian Lorenzo Bernini (1598-1680).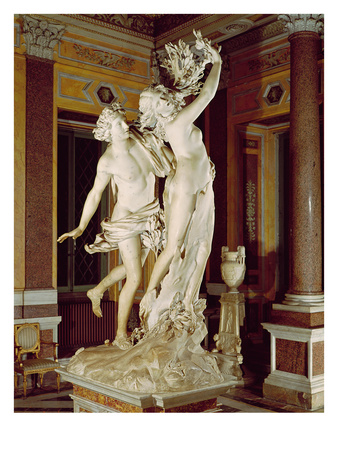 Apollo and Daphne, 1622-2...
Giovanni Lorenzo Bernini